Going out on the road in a Recreational Vehicle (RV) sounds like a lot of fun. I have never done it but always thought about renting an RV for a month and driving cross country. Something about it sounds so exciting, and what a great way to see a large portion of the United States. I have never done anything more than just considered it.
If you are anything like me, and you dream about driving an RV someday, you should start here. This article answers many questions for you, including how much does it cost to rent an RV for a week?
Related: RV and Camper Brands | How to Clean RV Awning | How to Winterize RV | Where to Buy Used RVs | How Much does RV Cost
How To Rent an RV
There are mainly two different ways you can rent an RV, and each one has some pluses and minuses. One may be a better option for you than the other. We will dig into both options, so you can see the differences between the two. There are some other things to consider when looking at the cost of renting an RV. You must think about gas, mileage, any fees, and probably a few other things.
Cost to Rent an RV Through a Company
The average cost to rent an RV through a company is going to vary based on the RV rental company. There are a few additional factors that change the price of the cost of renting an RV. These factors include the age of the RV, the location in which you rent it, the size of the RV, and a few other determinants. The RV rental prices can change from year to year.
Here are the average costs that you can expect to find when renting an RV.
| | | |
| --- | --- | --- |
| | Older Model (10 + years) | Newer Model |
| Class A RV | $175 to $275 per night | $350 to $450 per night |
| Class B RV | $100 to $200 per night | $200 to $350 per night |
| Class C RV | $150 to $200 per night | $225 to $400 per night |
| Travel Trailer | $50 to $125 per night | $125 to $200 per night |
| Fifth Wheel | $60 to $150 per night | $150 to $300 per night |
Cost to Rent an RV Peer to Peer
You can also choose to rent an RV from an owner instead of through a company. This is often referred to as a peer RV rental. This makes your motorhome rental a little more affordable, but you are dealing with a person and not a company. The quality of the inside of the camper is only as good as how well it has been cared for by its owners.
This may be a great way for you to save a little bit of money on renting an RV. Often when you rent from a personal RV owner, the longer amount of time you rent, the cheaper it becomes. It is easier for the owner to allow you to rent the RV for an extended period of time. They pass that ease along to you with a lower rental price.
| | |
| --- | --- |
| | Average Cost |
| Class A RV | $175 to $275 per night |
| Class B RV | $100 to $200 per night |
| Class C RV | $150 to $200 per night |
| Travel Trailer | $50 to $125 per night |
| Fifth Wheel | $60 to $150 per night |
| Pop Up Camper | $50 to $100 per night |
| Toy Hauler | $100 to $200 per night |
| Campervan | $75 to $150 per night |
Average Cost for an RV Trip
There are a few things that go into the total cost of renting an RV. There is more about that later in this article. Many people want to see the bottom line before they see the details, and we are going to provide that for you right here. The chart below shows you the average cost of your RV trip. Remember, this is an average cost and could go up or down depending on how you spend money.
| | |
| --- | --- |
| Rental Period | Average Rental Prices |
| Day Trip | $75 to $350 (plus tax) |
| 7 Day Trip | $500 to $2,400 (plus tax) |
| One Month | $1750 to $10,000 (plus tax) |
What are the Different Classes of RV?
Before you go out and rent the best rental RV for your next adventure, it is helpful if you know a little about RVs and the different classes. This will help you pick the right RV type for you and maybe help you save a little money along the way.
Motorized Motorhomes
Class A Diesel RV
The Class A Diesel Motorhome has a large diesel engine positioned in the rear of the coach, which gives you more torque. These RVs are built on a motor vehicle chassis that was designed especially for them. The ride is quiet and smooth, which is largely due to the location of the engine.
The engine on a diesel RV is basically pushing you down the road. This is the most luxurious of all the RV options. They have kitchens, sleeping areas, and all the standard appliances. This is a great option for a cross-country trip or a trip that is going to be longer. This is an ideal option for someone that RVs full-time. This is also the most expensive RV option.
Class A Gas RV
Source: RVT
The Class A gas RV gives you all the comforts of home, but on the go. This is also a common choice for someone that is into RV'ing all the time. It has appliances that are similar to those you will find in a home, including a washer, dryer, refrigerator, and microwave.
These RVs have master bedrooms, designer furniture, and electronics that are high quality. Class A usually comes with optimal storage space and compartments for your personal items. They usually have slide-outs to give you more space. Class A usually looks like a bus, and it about 30 feet to 40 feet long. It has a vertical windshield in the front and large windows throughout.
Class B RV
The Class B RV is also called a camper van or a B-van. These are great options for the more adventurous RVer that wants some of the comforts of home. This type of RV is built on a van chassis which makes it nimble. This RV drives more like a regular vehicle. It can have a diesel or gas engine.
You can take it quickly and easily from on-road to off-road. Many of them come with options for off-road equipment. A Class B motorhome is usually 20 feet to 25 feet long. It is more compact but often has an interior design that fits everything you need.
They usually have sinks that fold, toilets that turn, and wet baths. The sleeping space converts to a sitting space with ease. This is a great option for a couple or someone traveling alone.
Class C RV
The Class C motorhome is small and built on the chassis of a truck. They are available in diesel or gas. Mercedes Benz, Chevy, and Ford all have built Class C motorhomes. They have a distinct look thanks to their cab-over profile. The cab above the driver usually holds a space for sleeping or storage. Class C includes kitchens, slide-outs, and bathrooms.
They are just smaller. They have a shorter chassis allowing them to go anywhere they want, especially places that a larger RV will not fit. Some campsites at state parks cannot accommodate larger RVs. There are many different floor plan options in the small RV giving you the ability to select the one that works for you.
Towable RVs
Fifth Wheel Camper
The Fifth Wheel Camper is the largest of all the towable RV options. You need a large pickup truck to pull it. It must have a fifth-wheel hitch that is located in the bed of the truck. The hitch is located on the Fifth Wheel camper in a place that causes the forward section of the camper to be raised. This is usually a place for a bedroom or living room.
These campers have slide-outs and an extended length which makes it a spacious RV. There are floor plans that offer as many as six slide-outs. These are a great option for families. You can park your fifth wheel at a campground and detach the truck if you want to drive around the area. It is important that whatever vehicle you used to tow this camper is rated to tow the weight of the RV and what it contains.
Toy Hauler
Source: RV Trader
Toy Haulers are often called sport utility RVs. This is because they are built to hold a large amount of gear and toys. This means big toys, like dirt bikes, golf carts, snowmobiles, etc. The toy hauler has a large cargo area, sometimes called a garage. They have heavy-duty doors that can become a ramp for loading and unloading. This is technically a subcategory of RVs. They can be motorized or towable like a fifth wheel. The majority of these RVs are fifth-wheel campers. They have a large amount of living space in addition to their storage space.
Travel Trailers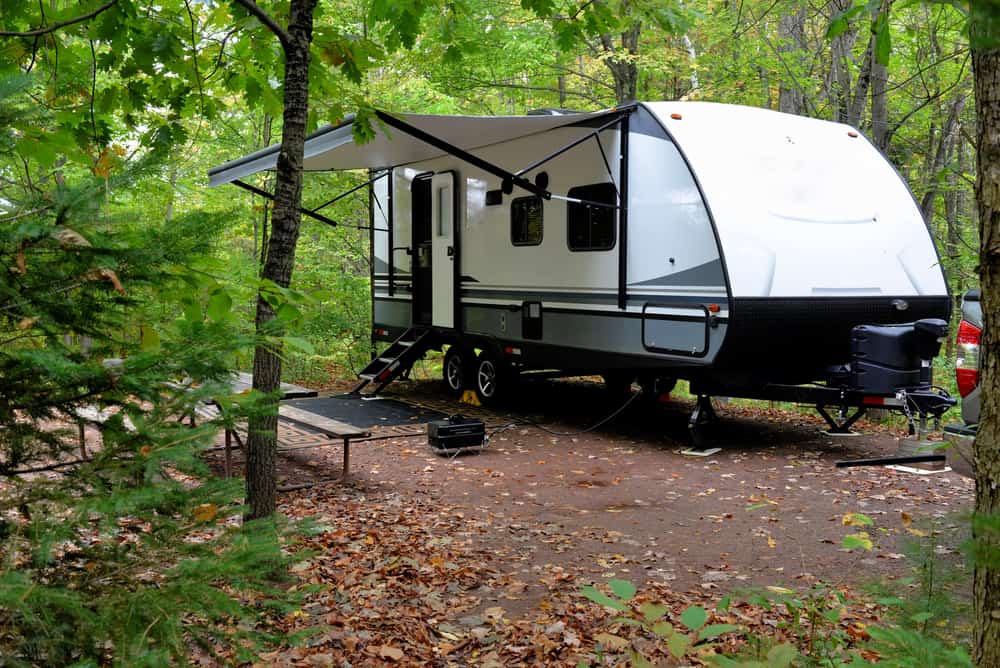 Travel Trailers are also called conventional trailers. You will see them on the road and on campgrounds. This kind of trailer is towed by a bumper for a frame hitch. These hitches extend past the front of the trailer. These trailers offer many different floor plan options and are great for anyone that wants to travel. They can have a large variance in weight from less than 4,000 pounds to over 10,000 pounds. These trailers have multiple slide-outs to give you more living space.
Travel trailers are easy to detach and set up at your campground. These trailers offer the best of both worlds of having living space with you while you travel, but you can easily separate it and go exploring without it. You may want to consider a travel trailer rental for your next vacation.
Teardrop Campers (Tiny Trailers)
The Teardrop Camper is easy to recognize. It has a distinctive teardrop shape. This is a great trailer for weekend travel. This tiny trailer will give you the basics. In most cases, this is a bedroom and some storage on wheels. There are some larger floor plans that offer a wet bath and a kitchen and dining area. These types of campers may make use of swivel toilets, folding sinks, and convertible sleeping areas.
They combine unique design with a vintage look, and they are incredibly functional. Many owners of tiny trailers like to decorate them in a vintage style. This type of RV usually weighs less than 4,000 pounds and is gaining popularity amount RV'ers.
Pop Up Campers
Pop Up Campers are probably the ones that you remember the most. These are the campers that many of us spent some part of our childhood in. They have a hard base and sides made of canvas that extends or pop up, to give you space to sleep. A Pop Up Camper is one of the best options for families that want to camp but do not want to use a tent.
They have placed themselves solidly among the family camping set. They are affordable and durable. Pop Up Campers are lightweight, which means they can be towed by any vehicle, including your standard family car. They come in a wide range of options making them an affordable and desirable option.
What to Consider When Renting an RV
Now, you know a little more about the types of RVs that you can rent, and you have a solid idea of how much they are going to cost to rent. We are going to give you a breakdown of the fees that you may have to pay in addition to the rental cost of your RV. There are other items you have to pay after you have rented your RV, such as gas, that will not go to the RV company.
These are fees you should take into consideration when you are putting together your budget for your trip. You may want to add a little buffer in because something always comes up. You may spend more money than anticipated somewhere, and if you do not have padding, you could easily blow your budget.
Fees
These are some additional fees you may have to pay. Not all rental companies charge the same fees, and you may have to read the fine print to find them.
Generator Fee – just about every RV comes with a generator. The company may give you an allowance for how much you can use. After you have reached your limit, you may have to pay a fee for its use. The limits may be set in hours or mileage. When you go over these limits, you could be charged by the hour or mile for the use of the generator.
Some companies charge you a fee no matter what. When it is hot, you will use the generator more because the air conditioner is used more. Be aware of how much you are using the generator as it could increase the amount you pay.
Cleaning Fee – some rental companies charge cleaning fees, and others do not. If there is a fee, you can expect it to cost around $50 to $100. You may not have to pay the fee if you clean the RV before you return it. You should clean it anyway, but the company may only charge a fee if you return it not cleaned. Some companies may charge a cleaning fee either way.
Set Up or Delivery Fee – Some RV owners or companies give you the option of having the RV delivered to you or at your campsite. They may even set it up for you at the campsite. Some owners do not make this optional. For some owners, they will deliver it and set it up. They also charge you for this service. You can expect set up and delivery to cost somewhere between $150 to $200.
Campground Charges
If you decide to stay at a campground or several campgrounds, they have fees also. You have to pay for your spot. You may also have to pay hookup fees, depending on the campground. You can elect to go dry camping, or boondocking, which means you do not stay at a campground or hook up to anything. You are living on what is internal to your RV.
Taxes
There is always a tax for renting an RV, no matter from whom you rent it. You are going to pay the tax for the state in which you are picking up the RV. It does not matter if you live in Delaware if you are renting in Maryland. You will pay the sales tax in Maryland.
Insurance
You should consider rental insurance. There are some RV rental companies that will give you free rental insurance when you rent with them. Others will not. You can purchase trip insurance or damage insurance for a certain percentage of the total rental cost.
With trip insurance, you are able to get some of your money back if there is an emergency that causes your trip to be canceled. Damage insurance protects you from having to pay for damages. If something is damaged on the interior of the RV, or an appliance breaks, or some other damage, you may have to pay for it out of pocket unless you have some type of insurance.
Security Deposit
You are going to have to pay a security deposit that may be refundable. These deposits usually cost around $500. At the end of your trip, when the RV is returned, you may be able to receive your security deposit, providing there are no damages to the RV. If you purchased damage insurance and there is damage, you should be able to receive your deposit back.
Gas
If you decided to rent a motorhome and not something that is towed, you would have to put gas in it. You can expect that you have to return the RV with a full tank of gas, but that is usually negotiated at the time of rental. You may have to return the RV with the same amount of gas in it as when it was given to you. If you do not return it with the appropriate amount of gas, they will charge you. You will be charged for the cost of the gas to fill up the tank and a fee. The fee could be as much as $50 or higher.
Mileage
You may be able to find an RV rental that has unlimited miles on it. Not all rental companies are the same. Do not assume you have an unlimited number of miles. There are some that give you a set number of miles and then charge for every mile over the limit. If you go over the limit, plan to be charged anywhere from $0.25 to $0.75 per mile that you go over. You should always be sure to read the fine print on this.
Any one of these 'extras' can blow your budget completely out of the water. It is essential that you include these items in your costs. This way, there will be no surprises for you when you rent your RV or return it.
Tips For Renting an RV
Before you think about renting an RV, there are some tips to consider. These tips may help you save money or time. They may even help save you some frustration. No matter what type of RV you are considering, saving money is always a good thing. There may be ways for you to easily save money if you approach your rental in a smart way.
Book Online
You should consider using online booking options. You can easily search for an available RV. You can look through a wide variety of RVs that are available to rent, including all of their amenities. It is easy to find the one that is perfect for your next trip. There are search options that allow you to filter on the things that are important to you, like price.
You can see what is available on your dates of interest. You can do all of this online in a matter of minutes. You can book peer-to-peer RVs from RV owners that are renting their own RV. You can also rent from specific companies through their online service.
Off-Peak Rentals
There is a reason why there are peak times and off-peak times for rentals. There are specific times of the year when people want to travel and visit other areas. This is usually related to the weather or holidays. During this time, the rental companies charge more to rent their RVs because they can.
They know their RVs are in high demand, and so they charge a premium for them. If you are willing to take your trip at an off time, you can save a substantial amount of money. The off-time may not be as off as you think. One week can make a huge difference in the price.
If you do not have your dates set in stone, considering moving the weeks around to see how it changes the price you pay for a rental. You just might be surprised. You may even enjoy the area you want to visit with a slightly different temperature and fewer people.
Meals
If you are renting an RV with a kitchen, you should use it. One of the largest expenses on your vacation is the cost of food. It will cost much more money than you think if you eat out. Make the best use of your kitchen and plan to cook in. You should plan out your grocery list and have a rough idea of what meals you want to make. This way, you can have the appropriate food in the RV when you want it. This will help you not eat out as much. It may seem silly, but something as simple as planning your meals can help you save a large amount of money.
Drive with Caution
If this is the first time you have driven a motorhome, be cautious. It is a great way to save money, but they are different from driving the car you are used to. Unless you are used to driving a big rig, give yourself some time to get used to it.
You should drive slower than you think you should. These vehicles are big and heavy. They cannot stop as fast as you are used to cars stopping. Get used to feeling the brakes and understanding how they work. Allow yourself plenty of time to stop. If you are not being cautious and someone in front of you slams on their brakes, you can hit the back end of them. You want to avoid driving through cities as much as possible.
The streets there are more narrow, and it is an accident waiting to happen. You should also avoid one-way streets. You should get a GPS that is specifically for an RV or set your own GPS to RV travel. This will help you avoid bridges, tunnels, and hills. It is best to avoid all of these areas, especially if you do not know how to maneuver through them. Just remember to drive it slow until you really learn how to handle driving an RV.
Plan Ahead
Spontaneous traveling can be fun, but it can also be costly. You can add unnecessary stress on yourself if you do not check to ensure the campground you want to visit is not booked. You should call the campground and make a reservation. You can often get better rental rates if you book ahead.
You can also plan your trip during a time when the rates are lower. If you are just going whenever then you will have to pay whatever the fee is at that time. If possible, you should plan your trip and route all the way through, so you know where all of your stops will be. RV camping is quite popular and there are many places to stop along the way.
Other Considerations
When booking your trip, try to find discounts. You can find discounts on renting an RV, as well as campground sites. You may be able to get a few days of rental free if you rent for a certain number of days. For example, you may be able to get 2 free days if you rent 7 or something like that.
You want to make sure that you are constantly monitoring your mileage. This is one way to save yourself money. Mileage overage fees add up fast. It does not take long before you find yourself paying hundreds of dollars in mile fees simply because you were not paying attention. If you plan your entire route ahead of time, it can help you stay within your mileage allowance and not go way over budget. The last thing you want at the end of your trip is a large bill for all the miles you went over.
You want to make sure that you do not have too much weight in your RV. You should make it a habit to check the tire pressure on your RV daily. This can help you make sure your tires stay at the right amount of pressure. This helps you to get the best gas mileage that you can from your RV. These two steps can help save your fuel. Either of these two things being out of synch can really suck up your gas.
FAQs
What is the Cost to Rent a Luxury RV?
Renting a luxury RV is going to be the most expensive way to rent an RV. In this case, you will get what you pay for, and you will pay a pretty penny for it. Depending on the class of RV you rent, that will make a difference in the cost.
The features that the RV has will also drive the costs up. You can expect it to cost you at least $300 per day to rent a luxury RV. It may cost a renter much more than that. You want to make sure you find the perfect RV for you.
Is It Better to Rent an RV for a Month?
This may surprise you, but it is probably going to cost you less money per day if you rent an RV for an entire month. Many dealers give discounts for the longer amount of rental time you have. Not only that but renting an RV for a month will cost you less than renting a hotel room for a month. You might even be able to find some really good deals on rentals for your RV vacation. You may even decide you love the RV lifestyle.