Camping is increasingly appreciated as a kind of outdoor lifestyle and one that's needed to reduce stress or revitalize one's emotional and physical health. In the US alone, 2.6 million more households across all ethnicities started camping just in 2017.
The 2018 North American Camping Report sponsored by Kampgrounds of America (KOA) also revealed that Millennials accounted for 40 percent of all campers, 52 percent of all campers have children, 48 percent have no kids, and 59 percent camp out within 100 miles of home.
Factors such as increased access to Wi-Fi and mobile service as well as new tent alternatives boosted interest for new campers. Tents still remain the top choice among new campers at 53 percent but other more exciting options are piquing interest.
1. Rooftop Tent
Rooftop tents are popular among overlanders, adventurers, and campers. Unlike the regular tent, the rooftop tent is easy to set up. It can be assembled in seconds with little to no effort required nor any tools needed. The bedding is inside the folding tent so it frees up space in the vehicle and includes a pre-installed thick foam sleeping pad for comfort and convenience.
The sleeping area can accommodate two adults and is securely attached to the roof of the vehicle so you're sleeping off the ground which means there's no need to worry about bugs and critters invading your tent.
It also provides an annex room that's spacious enough for a queen size mattress, mat, folding cot or even a small dining table with chairs.
Pros
It's effortless and quick to set up.
It's convenient and provides a sense of security for sleeping outdoors.
Stored bedding frees up space in the vehicle.
Mobility
Cons
It can be tiring to break up camp every day if you plan to explore the locality.
Climbing down the ladder at night for quick bathroom breaks.
It's more expensive than a normal tent.
2. Hammock
If rain, snow, wind, and cold are not an issue, then camping with only a hammock is an option for those who do not like pitching up tents. Made from a variety of fabrics, hammocks are held up in several different ways, but they are mainly a metal stand or two trees. They can be flat or curved, come in rectangular, circular, or triangular shapes, and be big enough for one to three people depending on the type and supports. Some are designed to be see-through with weaved netting while others are dark-colored to be suitable for sleeping.
For sleeping overnight outdoors, it is best to get a hammock with a mesh covering to prevent bugs like flies, mosquitos, and spiders from getting in. Putting a sleeping bag or a few blankets inside can also make it more comfortable and warmer for those chilly nights. Always check to see how much weight a hammock can support before buying one. Some people hand their hammock up and then a second below or above that one for their bags while other people attach the bags to one of the ends that are tied to the tree/pole.
Pros
Easy to carry
One of the cheaper alternatives
Quick prep time
Cons
Susceptible to the elements
3. Cot
For those who do not like heights or the prospect of sleeping suspended in the air, a simple camping cot is probably the better, simpler option. Looking like a fold out beach chair that is reclined when it is set up, camping cots are made from a few collapsible, metal bars with a fabric base. There are many different designs out there, from singles to bunk beds, tall to short, and stationary and wheeled. Some of them come with a tent-like top that is made of fabric and mesh material to prevent bugs from getting in.
Like with the hammocks, always check how much weight that the cot can support before buying it. Unless the cot is larger than the user, there is no place to put their bags unless there is another cot, which is an option since they are usually cheap. Sleeping bags, blankets, and camping pad can be used with cots to make them more comfortable, too. A huge difference between hammocks and camping cots is that cots need to be set on a level surface to avoid damaging the cot or risking one's safety.
Pros
Quick and easy to set up
Comes in a variety of shapes and sizes
Cons
4. Tarp
Probably the simplest and quickest alternative is the tarp. Tarps can be found easily online and in stores, but for ones that are going to be used in lieu of a tent, getting a special camping tarp is best. These are made with almost the same material as tents and hammocks but are designed to be more durable, waterproof, and resistant to the wind. When taking weather conditions like snow, rain, and wind into consideration, it is best to use a tarp with other alternatives like a hammock or cot. However, they are in no way good methods for insulation, and they are just to act as a barrier between you and a weather.
Tarps usually take several minutes to put up and need either some rope, polls, and/or stakes to ensure they will not fly away with weak or strong winds. Smaller tarps that are at least 4 feet by 6 feet can be used just for covering the sleeping area of one person at the campsite and maybe a few bags. For two or three people under the same tarp, a 7 foot by 7 foot or larger tarp is best. It is also better to bring a second tarp for the ground in case it rains or the main tarp rips.
Pros
Cheaper than other alternatives
Lightweight and easy to pitch
Great when combined with other alternatives
Cons
Not best to use by itself
5. Bivy Sack
A bivy sack is a sort of cross between a sleeping bag and a tent. Unlike a regular sleeping bag, they have a special, elevated head cover that is either made of a mesh material and/or the same material as the rest of it. This is for keeping the bugs out and for shielding the user's face from sunlight and daylight so they can sleep in if they choose to. They are stored the exact same way as sleeping bags too, in a bag.
These are especially used by hikers because of how well they are insulated. They are not usually waterproof, however, so using them with a tarp both over them and under them is preferred for staying dry. That and since they are laid out on the ground, using a camping pad between it and the tarp can soften the ground and be more comfortable.
Pros
Well-insulated
Provides covered sleeping
Small and compact when storing
Cons
6. Hammock Tent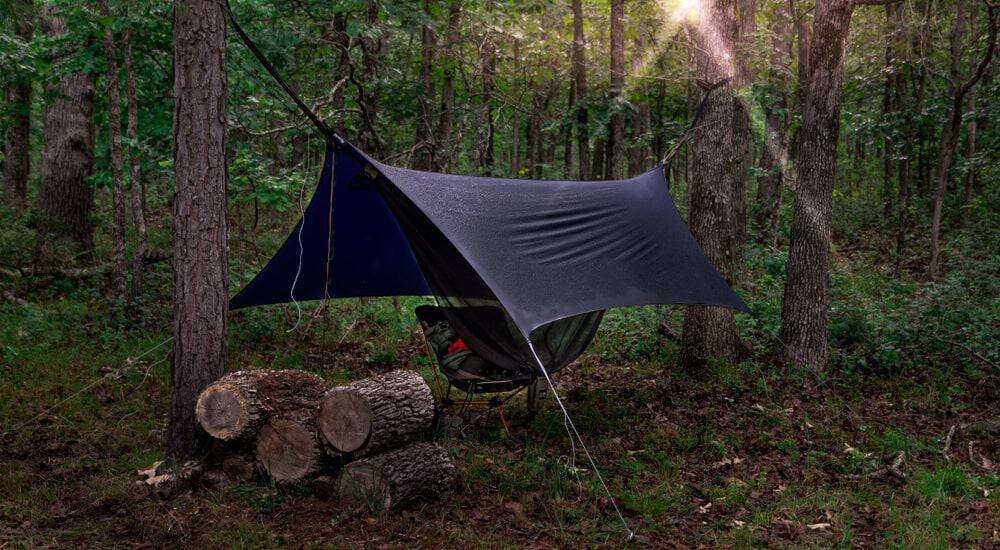 For a more luxurious way to camp and sleep, hammock tents are possibly one of the best trampoline alternatives for those who do not mind heights or sleeping in the air. Unlike regular hammocks that are smaller and do not provide much if any extra room, hammock tents are usually large enough for 1 to 3 people, come in a variety of shapes and sizes, and need at 2 to 4 or more trees to be hung up. They are almost always covered with the same material, a mesh material, and/or both with zippers like a regular tent.
While they are indeed more unique experience, it can sometimes take longer to pitch up a hammock tent than a regular tent, especially if it is being pitched high up or there are a lack of strong trees. Both of these factors can also limit campsite locations, even more so if some campgrounds have rules against them, though it is not that common. Despite all of these factors, when used with a tarp, sleeping bags or bivy sacks, and some blankets, they can be a great way to camp in almost all weather conditions.
Pros
Have more room than regular hammocks
Be hung high or low
Cons
May need more trees than a regular hammock
7. Sleeping bag in a car
This is the best alternative for those whose camping plans were altered because of bad weather and/or have a pickup truck and just want to see the sky at night before they sleep. Sleeping bags are a lot cheaper than tents and other alternatives and all that needs to be done to 'set up camp' is rolling out the bag.
Like with the other substitutes, using camping pad or some blankets can make it even more comfortable. If there is enough room, try fitting an air mattress in there too, but make sure nothing will be able to pop it like some screws, sharp edges, or the trunk. Laying a tarp down before putting the mattress in will protect it.
Make sure to use sleeping bags that are appropriate for the time of year. For late spring to early fall, light, breathable ones are the best choice. For late fall to early spring, heavy, well-insulated ones are best, but it is best not to be exposed to extreme cold weather. Also, remember that sleeping in a car is not illegal in camping grounds, but it can be illegal in other places.
Pros
Quick and easy setup
Very little storage needed
Cheap
May have more sleeping room
Cons
Can be illegal in places other than camping grounds
May have less space for camping supplies, food, and/or personal belongings
8. Teardrop trailer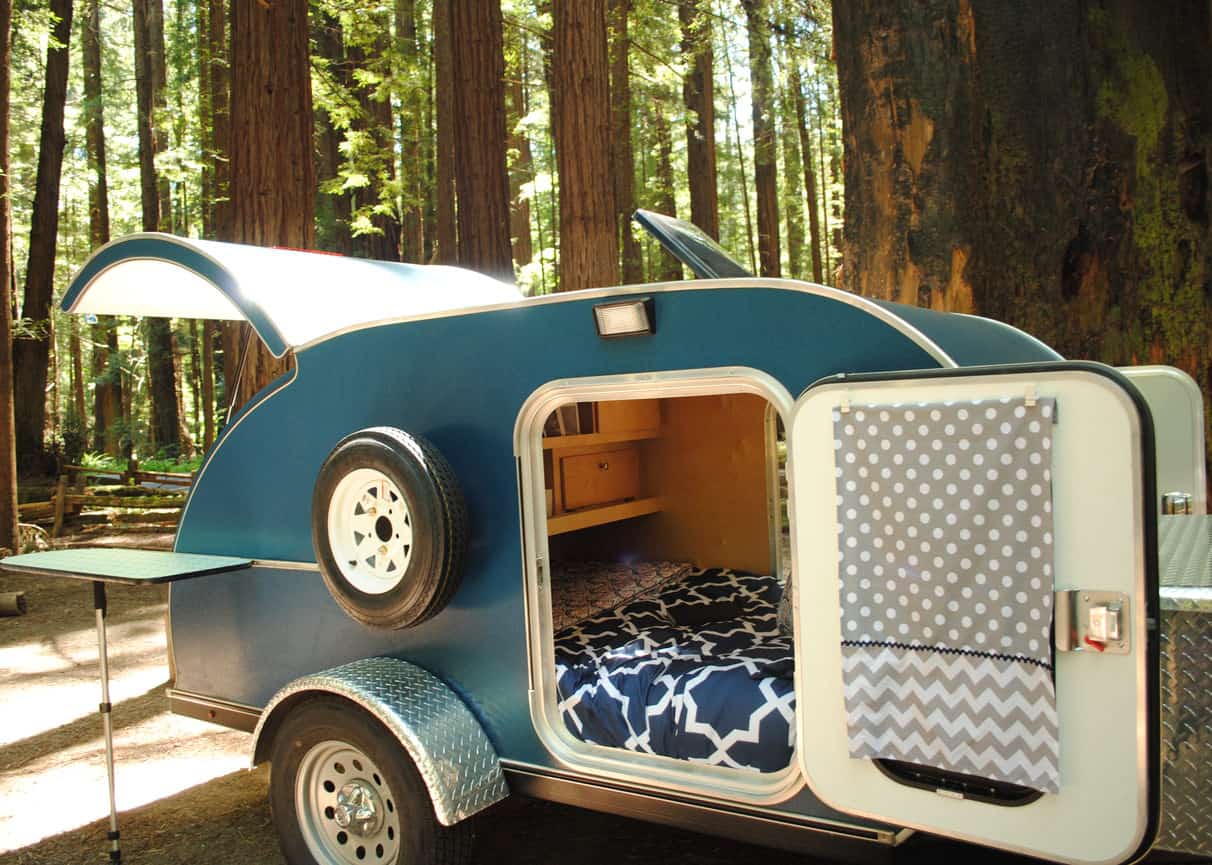 Teardrop trailers are one of the most traditional types of RVing. This particular trailer's teardrop-shaped design is hand-built and functional. The front part accommodates the sleeping area while the rear hatch is used as kitchen galley or storage area.
It's lightweight, aerodynamic, insulated against the elements, and can be towed by a vehicle. Teardrop trailers can accommodate more than two adults and can be equipped with electric outlets and battery-powered lights for modern conveniences.
Pros
It has a cute design.
It's budget-friendly.
It's easy to tow and maneuver.
It fits in a garage.
It offers plenty of add-on options.
Cons
Space is limited.
Storage is limited.
No space for bathroom or indoor kitchen.
9. Tent trailer
The tent trailer or pop-up tent can be considered an introduction to RVing. The tent is a canvas tent that serves as a separate compartment towed behind a vehicle. It's weatherproof and can be assembled under 15 minutes. The interior space includes two double beds, a spacious living space with a dinette, and a small kitchen area.
Tent trailers can also be equipped with electric lights and even a stove top and fridge. They also have plenty of windows and screens so they're well-ventilated.
Pros
Its small size makes it easy to go anywhere.
It can be towed by any vehicle.
You can store in the garage when not in use.
Cons
Too many instances for setting up and break down.
The tent's movable parts can easily break down.
10. Motorhome
Motorhomes are recreational vehicles that are larger than most types of RVs. They're self-propelled and have all the amenities of living in a regular home. These motorized units have a living space, kitchen, bathroom, and bedroom. Naturally, they look like tiny homes or apartments on wheels.
Pros
It offers comfort and convenience.
It offers a different kind of lifestyle.
It makes it easier to pack.
Cons
It's more expensive than the other alternatives.
Storing the motorhome when not in use can be costly.
Limited areas to travel.
11. RV Trailer
An RV trailer is a non-motorized towable usually used for storage. You can choose from a wide variety of shapes, sizes, prices, and even its amenities.
Pros
Mobility
It's budget-friendly compared to other RV types.
Cons
Can be difficult to tow and maneuver especially if the RV trailer is large.
Prone to theft
Climate control
12. Campervan
Campervans are a type of RV that also comes in a wide range of shapes and sizes. You'll often see one in a Kombi-style or a bus-style. Its interior includes a spacious cabin, a dining area, kitchen, bedroom, cabinet storage, and bathroom. You don't have to sacrifice comfort when it comes to RV campervans, and you can even get your favorite recliners made to order, which you can find out more about​ "here."​
It can be fully air conditioned and come with modern day amenities. It also offers add-ons such as outdoor tables and chairs and bikes.
Pros
Simple to drive
Easy to park
Comfort and convenience
Cons
It can be too large so not all places will be accessible.
13. Yurt
Yurt camping is part of modern-day glamping or glamorous camping. The original yurts were used by the nomadic tribes in Mongolia, took up to two hours for assembly, and were dragged across great distances from their wagons. Now if you'd like to experience yurt camping, all you need to do is to make reservations at a yurt campground.
They're still dome-like structures but the modern yurts also range from the bare and basic circular plywood frame with dome roof to luxurious units furnished with cozy comforter queen size beds, stylish furniture, hot water, heat, and electricity. Their sizes can range from 12 feet in diameter to 30 feet in diameter. Some are two-story and some exceed 16 feet in height.
Pros
More affordable than a hotel room.
Pet-friendly
Keeps you close to nature.
Cons
Might need to fight off bugs and rodents.
14. Pickup truck canopy
The pickup truck canopy, also known as camper shell or truck cap, is a versatile truck accessory that serves as a rear compartment for camping. While not going on an adventure outdoors, the truck canopy can be used for utility and storage purposes.
Pros
It's versatile and multi-purpose
Great for cargo safekeeping
Cons
Can be difficult to remove and reapply.
Can be bulky and takes up valuable space in the garage when not in use.
15. Portable Awning
The portable awning is your solution to impromptu expeditions at the beach or at a campsite. The awning is attached to the vehicle to provide shade and protection from the elements or as camping shelter. It's easy to assemble and easy to store when not in use.
You can also use the portable awning at your patio to protect your outdoor furniture from the sun, rain, or snow.
Pros
It's flexible and multi-functional.
It's easy to install.
It provides additional space.
Cons
The canvas may still develop a leak.
16. Pickup bed tent
The pickup bed tent is like a rooftop tent because of the Instant Tent which is assembled in the bed of the pickup truck. The tent has a floorless design and allows you to sleep off the ground. You can set it up and take it down without removing the gear from the bed.
Pros
Sleeping off the ground provides a sense of security.
No need to worry about bugs and critters.
Mobility
Cons
You must own a truck to use a pickup bed tent.
Limited to where the truck can access.